Klifhanger – Heritage 2018
Klifhanger is an art route in and around Den Hoorn (Texel) where artists on yards and fields, in sheds and living rooms in the dune area exhibit a work of art. Work created for the location and that has a strong link with the place where it is presented.
Reason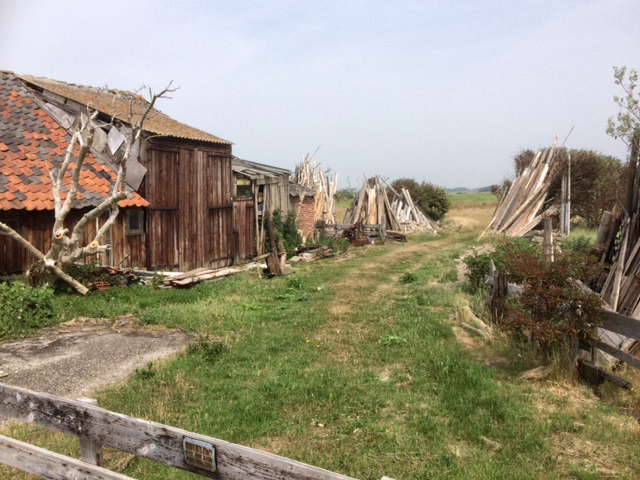 He does not let it down. Everything on his yard has a meaning to him. How can they look like junk now? He dragged that pile of wood himself from the beach. That old bus is there to ever again set up as a cafe. That lawn mower can not go away, so he mowed his pasture for years. And that iron, those tires and the stack of stones lie for once to use. "Wasting can always be" is his mantra. And because it has been so long, it has actually become a heritage. Certainly if you would know that all tourists who ride bicycles take pictures of it. They do not mind the mess, they enjoy it. No, the plot is a cultural heritage. You must cherish it, not clean it up.
Whether this is happening or not... 
... it's a story that plays around Den Hoorn about the farm of a farm near the village. And indeed, the appearance of things on the particular yard is so special and speaking that it gets a value in the area. The property is a point of interest and in the end it is no longer possible to think of collective memory. The good on the property has become a cultural heritage. Imprisonment, however, forces owners of this kind of litter to clear up the rumble and to rake into a showable yard that nobody can take offense with. Cleaned and removed there is nothing left to see, nothing more to talk. When it's gone, one does not notice the romance. This story is the reason to give Clifhanger 2018 the theme Heritage and instruct the artists to create new heritage on the inheritance.
Klifhanger is organized by Stichting 't Drijverhuus, the cultural organization of the village of Den Hoorn. Klifhanger's goals have been on track since:  A. Strengthen social cohesion in the village and the surrounding area.  B. With art in public space contribute to reaching a wide and wide public for culture.  C. Strengthen the village as a tourist product (village marketing). Every year in June visitors will pass the artwork through the streets and backdrops of Den Hoorn. Talk to other visitors, artists and residents. Admire the works of art, see the landscape, listen to the stories and enjoy the wind, the sun and sometimes a little rain ...